HOW DO WE STOP DOING DUMB THINGS TO OUR CUSTOMERS AND OUR PEOPLE?
Budd design and deliver brilliant customer experiences by helping companies to really listen and act on what customers & staff know
Entrepreneurs for corporates
Disruption + digital transformation – what does this really mean? Serial  entrepreneurs, we bring a start up mentality to think differently about your challenges and to get things done. We do this with and for your customers. Straight talking. Ideas. Experience. Pragmatism. Different perspectives. Consulting. Management. Experienced facilitation, chairing and public speaking.
The Best Service Is No Service
A best selling book written by colleagues in our global alliance LimeBridge, The Best Service Is No Service is an ecosystem of data, process, cloud based tools and accountability. It is ideal for high growth without adding proportionate sales and support costs. For large scale operations, the benchmark is a 20% per annum reduction in effort for customers and in budgets.
We work and share with UK and global clients, so we stay up to date with the latest practices and technologies that might help you. We present & judge awards, work with Pro Bono charity clients and with our colleagues internationally. For a decade, we have facilitated the Chief Customer Officer Forum of passionate clients, sharing customer challenges old and new.
At Budd we challenge companies on behalf of their customers and staff. Our passion is "How do we stop doing dumb things to our customers and our people?".
We bring thought leadership, track record, proven methodologies and energy. To deliver with you an impact and to form a legacy of which you can be proud.
We bring more than a decade of experience, systematically implementing the low effort. high growth model derived from Amazon's success: The Best Service Is No Service.
And we take the long view about sharing for others to benefit from our experience, whether through our public speaking, Pro Bono work or the exclusive Chief Customer Officer Forum of leading directors and managers driving customer experience.

Peter Massey – Founder
We work with CEOs, CMOs, business, digital or commercial heads and with transformation project leads, customer experience and customer service directors.
We find we work best with the ambitious and the frustrated. Sometimes we stabilise, but mainly we agitate and energise. Our client relationships last for years, but steady state, we are not.
Scaling revenues faster than costs
Protecting and enhancing your reputation – 'word of mouth' is free
Inspiring you and your teams to deliver results
Doing business digitally, analytically, differently
Switching on & scaling what your people know, to stop dumb things
OUR VALUED CLIENTS INCLUDE...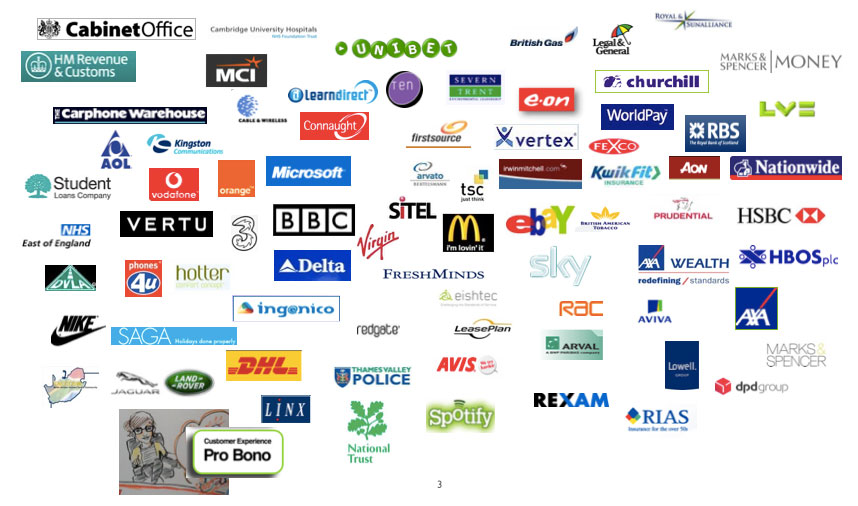 OUR CLIENTS LOVE WHAT WE DO FOR THEM
Chris Harris
Vertu
The contribution from Budd has transformed our thinking ….What I really like about the Budd approach is its practicality. Simple, understandable tools and straight-talking on what management processes need to change to make them work.
David Jaffe
Colleague & author of The Best Service Is No Service
If there was such as a thing as a master black belt facilitator, it would be Pete
Gerald Power
The Cabinet Office
Great project – Credibility and vision was brilliant. I feel that few other consulting companies could have delivered this in the time for the price.
Chris Birbeck
NHS East of England
Thanks for the master class last week. I have had fantastic feedback from more or less every one that I spoke to.
Don Hales
Awards International
....one of the UK's top presenters and consultants in customer strategy today, talks common sense in an arena where sense is not always that common
Tom Wilkinson
Axa Global Protect
Peter helped us consider how to design and build a great marketing organisation. It was a very valuable experience because Peter doesn't shy away from challenging your thinking, thus forcing you to consider problems from every possible angle. He is full of ideas and experience from many other succes
Anne Hanrahan
E.ON
Having worked with Budd for over 12 months I have to say that my opinion of consultants has completely changed! Budd have brought something fresh and dynamic to our business. Their approach is hands on, their drive and passion unwavering and the results they have helped us to deliver outstanding. It
Jo Hale
Head of Sales & Service, RAC
WOCAS made a huge difference to how we drove feedback and engagement. We also delivered over £3m in benefits. The agents loved it, our exec loved it
Example Client Cases
The case studies below serve as examples of our industry reach and breadth of knowledge
We're always happy to talk, share ideas and make suggestions.