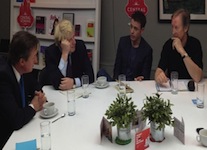 Marcus Golby
Marcus has been Customer Services Director at first direct and deputy CEO at M&S Money, responsible for all customer touch points across the internet, telephones and stores. Having qualified as a chartered accountant Marcus spent a number of years working in Corporate Finance before developing career in strategy and change roles in HSBC. He was COO of Harrods Bank and now is COO of Together Finance 
Marcus has a passion for transforming businesses, for people based approaches and for making strategic and operational change happen. Oh and cars!
Tim Kitchin
Until he sadly passed away in Jan 2017, Tim was Account Director at Copper, a digital marketing agency. He was an expert in "Brand Learning" – how internal and external perceptions and brand values interact and how they affect stakeholder value. Formerly with Ogilvy, he was also a director of AccountAbility, the ethical think tank and CSR standards body. He was a director at Capital Enterprise, a not for profit which enables entrepreneurship in London by supporting  member organisations to initiate, develop, promote & deliver services to directly help small business growth in London.
He was director of stakeholder relations at CropLife, a 91-country trade body for biotech' crops and crop protection and founder of Strategic PR company Glasshouse Partnership. Despite being a Cambridge graduate Tim had one of the sharpest brains on the planet.
Bill Price
Bill was the first global SVP customer service at Amazon.com and before that converted internal customer operations into the outsource arm at telecom company MCI. He co-founded, with Peter Massey and Osamu Taniguchi, the LimeBridge global alliance.
Bill is co-author, with David Jaffe, of business best seller "The Best Service is No Service". Their 2nd book ("Me2B") was published in January 2015. He runs the LimeBridge company in the US, Driva. He chairs the Global Operations Council and the Chief Customer Officer Forum in the US.
He lectures at the University of Washington and is well on his way to his goal of travelling to 100 countries!
Jonathan Wilson
Jonathan was Commercial Director at Virgin Atlantic Airways and Head of Senior Management Development with SAS Scandinavian Airways for two years working with CEO Jan Carlsson and his "moments of truth". Ultimately Managing Director of London City Airways, he had started his airline career with Laker Airways, the company that launched low cost airlines.
Today Jonathan is an experienced executive coach and leadership consultant. His pet subjects are the impact of complexity  on strategic thinking,  authentic leadership and  how industry leaders can learn powerful and relevant lessons from human factors in systems catastrophes.
His specialism is asking great questions.
Featured Projects
No portfolio found!